About The Front Room
The Front Rooms story began in 2017 when Hannah, the owner operator, was looking for a new job in the beauty therapy industry and found her values didn't fit into a lot of the current beauty salons. So she decided to create a small home salon where she would offer holistic, organic products and treatments in a space that is relaxing and nurturing. 
With the pandemic in 2020 The Front Room transitioned into an online space where you can purchase plant based, organic beauty and wellness products that get the results you want from the comfort of your home. 

Why we started
The Front Room was created to provide a space that is relaxed and nurturing. Where relationships with clients are created so that we can provide the most natural, effective and caring treatments that meet the individual needs of each client.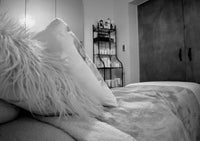 Why Choose The Front Room?
At The Front Room you will find high quality natural products and services. In a kind, caring, relaxing environment. At The Front Room we try our best to be thoughtful about everything we provide like being vegan or cruelty free, using recycled materials, products are free from Parbens, palm oils, and sulphates and the sustainability of ingredients and products.   
The Front Room believes in a balanced life with balanced self care and we cover all areas, mental, physical, spiritual and sexual.
Shop Now
Why shop with us?
Express Worldwide Shipping
Enjoy worldwide shipping on all orders! Delivery times may vary depending on your location.
Customer Support
Got any questions? We are here to help! Our customer support is ready to answer any questions you may have.
100% Safe & Secure Checkout
Your safety and security is of utmost importance. That's why we can guarantee a 100% safe and secure checkout.